---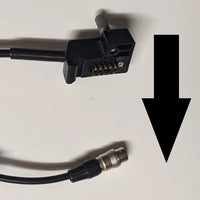 This is a service for modifying a keyload cable meant for use with a Motorola KVL for use with the KFDtool.
The keyloader side of the cable (MX connector) will be replaced with a female Hirose receptacle. The replaced MX connector will also be returned.
It can then be connected to the KFDtool KFD100 using a KFDtool AC100 cable, or connected to Motorola KVLs using a Motorola TKN8531 Hirose to MX cable.
After placing your order, you will receive an email with details on where to ship the cable. The cable must be shipped prepaid, and it will be modified and shipped within 5 business days of delivery.
Warranty (modification only): 1 Year Limited Warranty